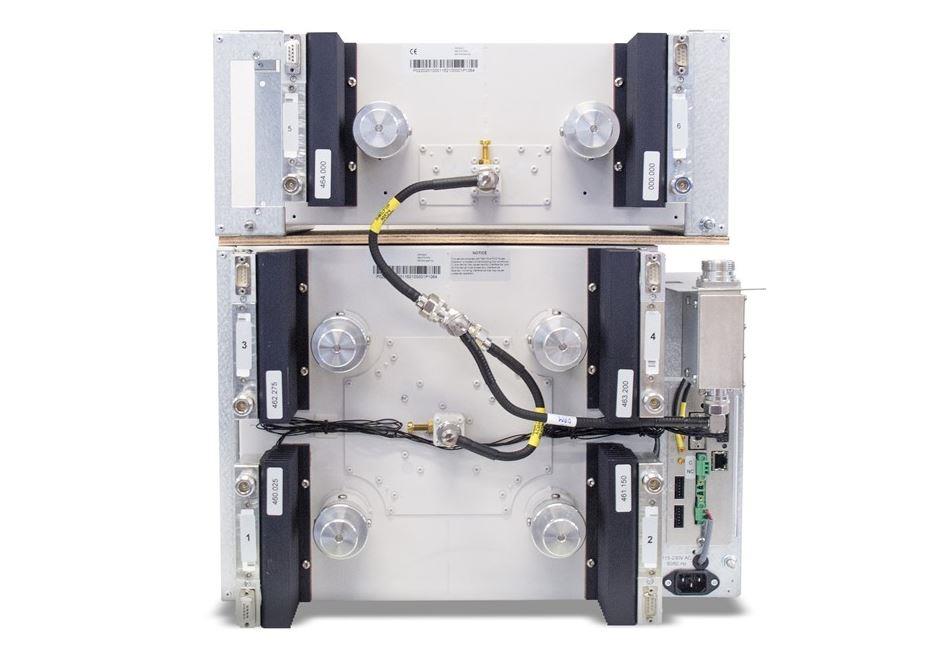 We can benefit from Indutrade's financial strength and experience in acquisitions.

Leveraging the Group's strength to drive global growth
Danish company Combilent has built up a strong position in mission critical radio systems in Europe. Its' MD Claus Dall-Hansen now wants to expand, and he sees Indutrade as the perfect owner to help him with this.
Combilent develops, manufactures and markets equipment for Professional Mobile Radio (PMR) communication systems. The company's products, including filters, amplifiers and combiners, are used to filter and amplify signals to and from radio stations. Focus is on mission critical systems, with key user groups consisting of police, fire brigades, ambulance operators, the transport sector and the military. Combilent's customers consist primarily of the major European manufacturers of radio systems, including Airbus, Motorola and Teltronic. Sales reached a new record high in 2017.
Technologial leader in its field
Combilent is a technological leader in its field. A key advantage of the company's combiners is that they can be remotely controlled. When settings need to be adjusted, this can thus be done without leaving the central control room. In many other systems, technicians have to be dispatched to each of the radio stations, which is common for major national systems such as RAKEL in Sweden and BOSNET in Germany.
Environment-friendly products
The products are also environment-friendly. This is in part because they are all small – often only a fourth as big as their alternatives, which means less use of metals such as copper and silver. Plus, they are energy-efficient since they generate less heat and thereby reduce the need for air conditioning in radio stations.
"One example of this is a system that we delivered to the Dutch government, which paid itself off in six months owing entirely to lower energy costs," says Claus DallHansen, MD, who together with Jesper Trier is a co-founder of Combilent.
Focus on research and development
Combilent's technologically leading position is based on a strong R&D focus.
"We work often as an extension of our customers' R&D departments," says Claus. "Essentially everything we do is entirely customised to suit our respective customers' radio systems."
Customised products also entail – at least in the near term – that customers do not have any other alternative suppliers.
"This puts high demands on our quality, dependability and delivery reliability, and we strive continuously to offer a highly efficient 'delivery machine' that is closely coupled to our customers' production," Claus adds.
Indutrade contributes to growth
Advanced products and high delivery reliability have earned Combilent a full 80% market share in the TETRA system, which is the EU standard for mission critical radio systems. There is no global standard, since large countries like the USA and China have preferred to develop their own standards. Combilent's technology can be used in all different standards, but its successes outside TETRA have so far been limited.
This is where Indutrade comes in.
Combilent has a full 80% market share in the TETRA system, but its success outside of TETRA has been limited. This is where Indutrade comes in.
"In a technical sense we have very wellpositioned products and want to invest in gaining additional market shares also in other radio systems and regions," says Claus. "Our assessment is that in certain regions this will have to be achieved through acquisitions, and here we can benefit from Indutrade's financial strength and experience in acquisitions."
There are several reasons to grow through acquisitions. One is that it is a faster way to gain entry to a market. Another is that customers in certain market segments want suppliers with a broader product offering. A disadvantage of being a relatively small player like Combilent is that certain customers hesitate to award really big contracts to small companies.
Claus Dall-Hansen emphasises the former: "I see major opportunities to grow in a world that is tending to be more uncertain and where governments are investing big money to protect their citizens."